Mennonite enn Wastpreisse



von Diedrich Tisse, äwasat von Heinrich Ditj


Aus Wastpreisse woat beteatjent daut Deel vom Dietschen Orden dee 1466 unja Herrschaft von Poule kaum. Enn dise Tiet word daut uck jenannt tjenichlijet oda poulnisch Preisse, em Jeajensautz tou deam herzoglijen Preisse woont noch jebleawe we em Ordensjebiet. Dee Steada Daunzich, Elbing in Thorn folle vom Dietsche Orden eea auf aus Wastpreisse, so daut see selst met deam poulnische Tjeenich vehandle kune in eene groote Autonomie erreatjte. Wearend dee lange Tjrieje tweschen Poule in deam Dietschen Orden, tou latzt 1519-1521, word veal vetrimmat. Daut we besondasch fe daut Flachlaund enne Weichsel-Nogat-Delta ärenst, daut kun blos dan fe dee Laundwirtschaft jebruckt woare, wan doa aufjedammt word. Enn dee Tjrieje word nou dee verhea jebüde Daums nich mea opjepausst in uck venicht. Doa to kaume meare Pestepidemie, woone sich uck op deam Aufdamme ütwirtjte, wiels weinja Oabeida tou habe weare om dee Daums optouschede. So vesompt dee Laundschauft. Wiels dee poulnische Tjeenich enn bestendje Jeltnoot we, vepfendet oda vekoft hee groote Jebiete enn Wastpreisse aun veschiedne Persone. Dee Steada Daunzich in Elbing in dee niee in oole Laundäjentiema weare doaraun sea interesseat dee Sompjebiete enn dee Weichsel-Nogat-Delta wada optoufresche, doa kaume ahn dee mennische Flichtlinje ütt Frieslaund kratjt toum pauss.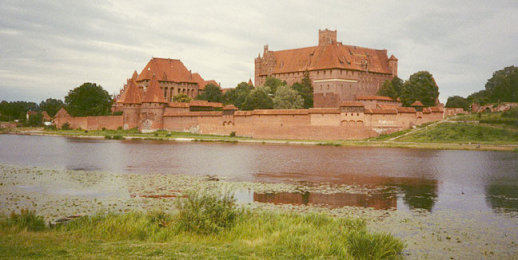 Marienburg


Dee Friese (ütt deam jesaumte friesische Jebiet, Dreefrieslaund jenannt, aulso Ostfrieslaund, Frieslaund in Groning-Laund) in Flaume haude johhundatelange Erfoarinje em Daumbüe in Woutaaufleide. Dise Tjantnisse kune see nü enn Wastpreisse aunwande. Aus äschta haft woll dee Bischof von Leskau dee Mennonite op sienem Laund aunjesiedelt. Doabie haft hee woll enn äschta Linje ütt wirtschaftlije Jrinde jehaundelt, wiels louta hee uck noch Jude aunsiedeld. Wan dee Mennonite weajen earen Gloowe uck äweraul vefoljt worde in dee poulnische Tjeenich strenj katholisch we, worde dee Mennonite em Laund nenjeloute. So aus sich daut bold rüt wees, haude dee Laundäjentiema groote Jewenste, wan se ea Laund aune Mennonite vepachte. Daut died goanich lang, dan haude dee Mennonite sich enn deam Daunzija Werder, Flachlaund wastlich vone Weichsel, in deam Marienburja Werder, Jebiet tweschen Weichsel in Nogat, ütjebreet. Daut sompje Laund wada fruchtboa moake kost sea veal Meaj. Bie dee schwoare Ädoabeit in von Krankheite es vone äschte Generation 80 % jestorwe. Dee Mennonite storwe nich ütt wiels doa emma fresche Flijchtlinja tokaume. Von dise Tiet tjemt daut minnische Sprichwout: "Die erste Generation hatte den Tod, die zweite die Not und nur die dritte das Brot".

Wan dee äschte Mennonite nou Wastpreisse jekoume send es nich jenau bekaunt. 1549 gaufet dee jedenfauls aul so veal, daut see enn meare Jemeindes organeseat weare. Enn disem Joh schref Menno Simons, dee eene Tiet doa jewirtjt haft, eenen Breef dee aune mennische Tjoatje enn Wastpreisse addresseat we. Sien Noufolja aus Leita vone Jemeindes em Weichsel-Nogat-Delta we Dertj Philips, een noudste Metoabeida von Menno Simons. Solang bit Menno nich tridj kaum nou Emden aune 1568.

Louta word eene Noumesforschung unja dee wastpreissische Mennonite derchjefeat in von doa weet maun daut, daut dee Siedla ver aulem ütt deam Nouddietschen-Niederlendschen Rüüm kaume. Een groota Schulps von Flichlinje kaum enn dee Johre 1562-1573 bit hia derch dee Vefoljunge aule Nichkatolitje vone Spania. Daut mot ouba uck Flichtlinje ütte Schweiz in Houchdietschlaund jejeaft habe. Besondasch dee Siedlunge wieda noum Siede, bie Kulm, mote een grootet Deel houchdietsche in morawische Flichtlinja opjenoume habe.

Daut kaume ouba nich blos Büres nou Wastpresse - enne Steada vesochte uck Kooplied in Haundwoatje auntosiedle. Ütt Furjcht vere Konkurenz veboot dee Stautobrichtjeit dee Aunsiedlung vone Mennonite diretjt enne Staut. Eenje Lied haude daut trotzdeam erzielt, besondasch wan eare Feajijtjeite, t.B. bie dee Siedjeschafte jebruckt worde. Sonst bleef blos noch dee Ütwajch dicht bie dee Staut, so aus t.B. Alt-Schotland, Schiedlitz in Stolzenberg bie Daunzich Plautz tou seatje. Mette Tiet leawde enn Daunzich jenouch Mennonite om doa Jemeindes tou opganeseare: daut äschte mennische Beathüs diretjt enne Staut word 1648 jebüt. Dee Zoul von Mennonite enn Daunzich in Omjeajend word aum hejchste em 17. Johhundat äwa 1000 Person jeschautzt.

Dee Kooplied kaume ver aulem ütte groote niederlendische Steada so aus Amsterdam, veale send nou hea wada tridj nou Niederlaund jegoune. Daut bestunde so wieso sea ennje Haudelsbeziehunge tweschen Amsterdam in Daunzich. Daunzich we em 16. in 17. Johhundat dee Haupthouwe von wo daut polnische Jetreajd aufjehoult word, daut measchte doa von kofte wada dee hollendsche Kooplied ütt Amsterdam. Interessaunt send uck dee ennje Vebindschauft tweschen dee mennische Jemeindes enn Wastpreisse in enn Holland. Eene omfangritje Korrespondenz es enn dee niederlendsche Archive bewoat jebleawe. Maun erfoat emma wada von dee Niederlenda eare Unjastetung fe ea Gloowensjeschwista enn Wastpreisse.

Waut dee Mennonite enn Wastpreisse ver aulem tou Goot kaum, we daut et em relijeese in Vewaultungsbereich tjene Eenichtjeit nich jef. Daut gauf twee konkurearende Tjoatje, dee lutearische in dee katolische, dee Mennonite kune dan bie eene von dean Beid Schutz rüthaundle, natülich fe Jelt, see musste dan dee Pfareie betoule. Toum aundre we deam polnischen Tjeenich siene Macht verheltnismeasich schwack, dee Äjentiema in dee Steada weare mea oda weinja selststendich. Wan woll uck emma vesocht word dee Mennonite wieda tou vedriewe, gauf et uck emma Lied dee vone Mennonite Nuze haude in doaweajen ahn unjastede.

So aus erweant mot daut Hauptdeel vone Siedla ütt deam friesische in fleamische Bereich staume, wo see enn eare Heimat een niedadietschet Dialekt em Jebruck haude. Doaweajen habe see enn Wastpreisse, besondasch oppem Laund, zimmlich schwind deam hiesije, sea äneljen, Dialekt aus Omgangssproak aunjenoume. Em Gottesdeenst in schreftlich habe dee wastpreissische Mennonite ouba sea lang aum Hollendschen faustjehoole.

Noch ütt eare oole Heimat haude dee Mennonite daut Deele enn friesische in fleamische Tjoatjejemeindes metjebrocht. Dee Noumes wiese woll doahan von wo dee Metjlieda staume - dee Friese in dee Flaume. Bie dee veale Omsiedlunge gauf daut doch Mischunge, so daut enn jieda Grupp Vetreata von beid Staums send. Beid Gruppe vehilde sich strenj jetrant, so we t.B. daut Befriee tweschen junge Lied ütt beid Jemeinschafte veboude. Dee Unjascheede fonge äscht aum Enj vom 18. Johhundat aun tou veschwinje.

Enn relijeese Hansecht worde dee Mennonite blos jeduldet, besondasch durfte see tjene Mission bie dee Noubaveltja feare. See durfte dee äschte Tiet uck tjene Tjoatje büe, see musste eare Vesaumlinje dan enn Privathiesa habe. Dee Gottesdeenste musste so derchjefeat woare daut dee bie Ütweartje tjeen Opseene mouke. Weajnem Militeadeenst gaufet bit enne Medd vom 18. Johhundat tjene Probleme: Aunsiedla ütt wietleftich besiedelde Jeajende worde don enn gaunz Europa nich em Deenst enjetrocke. Blos em Nootfaul, so aus t.B. aus dee Schwede 1734 wulle Daunzich enneame, musste uck dee Mennonite earen Biedrach leiste: entweada met Jeltspende oda derch Deenste wo see nich bruckte dee Jeweare enne Henj neame. Vone Medd vom 18. Johhundat musste dan aule Mennonite doa fe daut se vone Staut bejensticht worde, eene oppoate Stoja toule.

Enn Wastpreisse worde dan uck dee relijeese in soziale Enrechtunge jejrindet, dee louta met kaume nou Russlaund. Daut Mennonitentum es nich zentraul organeseat, sonda es enn Tjoatje-Jemeenschaufte jedeelt, wo bie daut enn Wastpreisse fleamische in friesische Veenjunge jeef. Jieda Veenjung es selststendich in woat von eenem Ältesten jeleit. Dise send so mette Bischofe tou vejlitje, bie dee amerikaunsche Mennonite woare dee uck so - aulso bishop - jenannt. Elteste kun theoretisch jiedra woare, maun bruckt doa to tjene besondre theologische Ütbildung. Wiels see ouba tjen Lohn tjreaje, kune sich daut blos Wohlhabende leiste Elteste senne. Dan gaufet noch dee Preadjasch in Diakone. Jenauso aus dee Elteste worde uck dise vone Jemeinde jewealt in fe earen Deenst nich betoult, daut word jetalt aus een "Äsauma Deenst". Wea doa noch jewealt word daut weare dee Veasenja.


Dee Elteste worde op Leawestiet jewealt (see worde blos bie groote Feala raufjenoume) in haude groote Macht äwa dee Metjlieda enn eare Jemeindes. Dee Preadjasch achte doarop daut dee Jemeindejlieda sich moralisch opfeade. So leade see Strouf op wan dee relijeese Veaschrefte missachtet worde, so t.B. bie Jletjsspeal in Daunze. Uck word bestrouft wan dee Deena tjarpalich jezicht worde. Aule soziale Vepflichtunge so t.B. Stoja toule musst jieda Metjlied erfelle. Noch wieda gaufet jewesse Tjleeda-Veaschrefte, wobie sich daut eenfach om eene konservative Enstalinj jeajen Tjleedamode haundeld. Aus Strouf kune junge Lied nich enne Jemeinde opjenoume woare, waut bie dee Mennonite oune Taufe nich meajlich es. Eene sea hoade Strouf we dee "Meidung": dee Jemeindejlieda word beliebja Omgang met dee doa von Betroffene veboude. Dee Mennonite sorjde fe eare Oame in Kranke selst. So gauft daut enn jieda groote Jemeinde een Waiseheim in een Krankehüs. Soone Enrechtunge gaufet nouhea uck enn Russlaund in Amerika.

Dee Loag veendat sich sea aus Wastpreisse bie dee polnische Deelinje 1772 in 1792 unja dee preissische Herschaft kaum. 1776 word doch woll doa weajen enn Wastpreisse eene Voltjstalinj derchjefeat (1776 Census of Mennonites in West Prussia auf der MMHS-Seite, sehr interessant für Ahnenforscher). Doa nou leawde enn Wastpreisse (oune Daunzich, Daunzichjste Nehrung, Thorn in Neumark Jebiete, dise jeheade don noch nich tou Preisse) 12.182 Mennonite. Von 1740 bit 1786 we Friedrich der Grosse dee preissische Tjeenich. Zwoa kun hee dee Mennonite dee gaunze relijeese Frieheit garanteare. Met deam Friemoake vom Militeadeenst we daut ouba ne aundre Sach. Jroud enn dise Tiet vesocht Friedrich der Grosse von Preisse eene groote Macht tou moacke, doa to bruckd hee eene stoatje Armee, doaweajen kun hee nich doa äwa jlitjjeltich senne daut vone Mennonite tjena nich deene bruckt. Dee Militeadeenst word don von tjenem jewenscht, dee junge Mana worde zwangsmeassich enne Armee nenn "jeprasst". Doaweajen we dee Existenz von eene wohlhabende, vom Militeadeenst friejemoakte in met Veadeele leawende Voltjsgrupp problematisch. Ouba dee Tjeenich entschied, daut dit Jeld fe sien Veaneame jenau so wichtich we aus dee Seldoute. 1780 garantead Friedrich de Mennonite gaunze relijeese Frieheit in uck Frieheit vom Weadeenst. Doafe musste dee Mennonite jieda Joh met 5.000 Thaler dee Militeaakademie enn Kulm unjerhoole. 1774 word een Jesatz aunjenoume, woont schwoare Folje haud: dee Mennonite durfte wiederhan Laund totjeepe blos met deam Tjeenich sien Erlaubnis. Friedrich selst we enn dise Hansecht nich strenj: dee Mennonite kune ea Laundäjentum wieda vemeare. Sien Noufolja Friedrich Wilhelm II we ouba nich so flexibel in tolerant. 1789 worde dee Bedinjuge fe nieet Laund tjeepe derch Mennonite von Nich-Mennonite schwanda jemoakt.

Wiels dee Mennonite veal Tjinja haude, vemeade see sich sea stoatj in bruckte nieet Laund. Zwoa kunne see enn earen Gloowe frie senne in uck nieet Laund tjeepe, wofea see nü sulle dee Jeweare enne Henj neame. Aus don dee Enloudinj nou Russlaund vone rusche Tjeisarin Katharina II kaum, word dee doaweajen äscht vone oame Laundloose, louta uck vone Wohlhabende aunjenoume (dee jenaue Jrinde woare enn eenem speziellen Artikel behaundelt). Bit enn dee 1860-ja
Johre fungk dan een bestendjet Ütwaundre nou Russlaund staut. Dee wiedre Entwetjlung enn Wastpreisse es em Reame von disem Projatjt nich so wichtich. Dee Hinjableawne pausste sich aun dee Enderunge aun. Aus em Dietschen Reich dee Weapflicht enjefeat word kune see Ersatzdeenst leiste. Nou deam 2. Welttjrich musste aule Mennonite von Wastpreisse wajch, so daut doa vendoag tjene mennische Jemeindes mea send.

---
Hauptquelle: "The Story of The Mennonites" von C.Henry Smith